Dubai is the city who provides convenient and easy handling procedures for their residents. Same goes for the car registration renewal in Dubai. The procedure requires few basics key steps to be done whether you buy a new car or planning to drive a used one. Dubai Roads and Transport authority (RTA) would not allow you to drive a car on the roads of Dubai if car is not register. The law and order for registering your car is mandatory for every citizen.
Procedure for registration: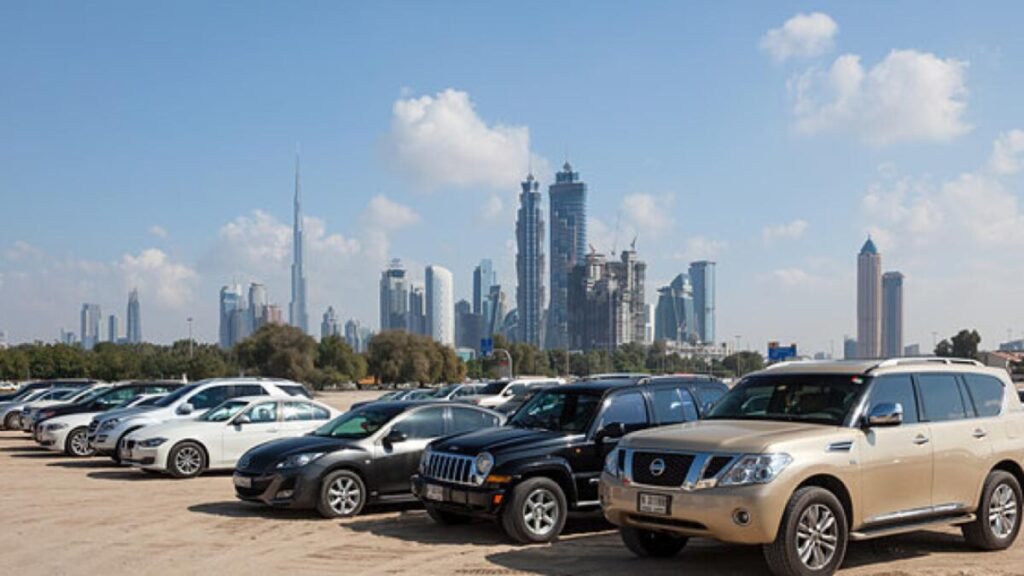 Car registration in Dubai is quite comfortable and secure. Once you buy a car now First and foremost step to do is to visit Roads and Transport Authority RTA center with your documents which includes

Residence visa which is valid and active for Dubai.
Rental contract if your car is rent from someone. A contract must be at the name of car's owner.
And last but not the least you need to take some proof of employment in Dubai.
With the help of any of these proofs your car registration would be initiat.
Required documents for Brand new Car registration:
Emirates Original Identity card
Your passport's copy
Technical inspection certificate of your car
Car insurance certificate from legal insurance company
If your car is financed from bank so you need to show bank letter as well.
This is the only required paperwork and documents that should be taken to RTA roads and transport authority pay the required fee and then you will receive the new vehicle license card. On estimate the overall process for car registration will going to take around 20 to 30 minutes.
Required documents for used car registration in Dubai:
It is a common practice in Dubai, that is, people who can afford luxury cars just buy new cars, drive, and change after sometimes. so used car can be easily resale and purchased by residents. For such car registration procedure is as easy as its for new car you only need following documents.
Traffic file of the car
Cars mechanical and technical inspection certificate
Cars insurance report
Original emirate's identity card which is required of both. Means buyer and seller of car.
Vehicle license which is also called "Mulkiya" provided by the seller.
Copy of passports
As per the rule and regulations all used cars are supposed to be inspected from Tasjeel or shamil centers. And then it will be handed over to the buyer after all the document's verification and approval. 

As per the era of digital upgrowing Dubai also updated set of procedures on their digital platforms. You need to login to RTA website and carry on with the dos accordingly. The car registrar must be done annually and if your car is three years old then your car needs new inspection certificate as well. Hoorah! Your car is now register and ready to land on the roads of Dubai.