Deep wave hairstyles include smaller, tighter curls than body wave hairstyles. Deeply waved hair is very attractive and bouncy. Deep wave hairstyles are fantastic if you want thicker hair because they give you a natural look while blending in with your hair. Are you eager to experiment with deep-wave sew-in hairdos? Here are some stylish tips to help you achieve better haircuts.
Hair In A Deep Wave And A Curly Bun
If you want a quick yet stylish deep wave hairdo to get you through the day, why not consider doing a curly bun? Gather and twist the length of your deep wave hair extensions, starting at the crown and then wrap it around in a circle before tying it off with a hair tie. Alternately, you might section off a little section of hair in the front and let tendrils droop carelessly in front of your face. It will alter the shape of your face and, to some extent, enhance your attractiveness. Clips, flowers, and other accessories can be placed on the bun's side. It looks to be such a delicate and charming item.
Buns in Space
The look of space buns with deep wave hair is beautiful. There are countless possibilities, whether you want sloppy space buns, low space buns, braided space buns, or half-up space buns.
Twists in Antenna With Wavy Leave Out
Tired of the same old, standard free flow? Add two-strand twists to the front of your deep waved hair before letting the rest hang. You can blend your long hair's classic elegance with the twists' vivacious, free-spirited vibe. For gloriously free-flowing hair, divide your hair into a few small parts at the top of your head, braid each one about three to four inches back, and then tie with tiny rubber bands.
Magnificent Deep Wave Crown Braid
One of the most popular deep wave bundles, crown braids, can draw attention to the texture of your hair weaves and give you the appearance of having abundant hair. With a wide-tooth comb, brush your deep wave weave, then start to part your back hair from the crown of your head to the nape of your neck. Then, beginning at the roots, braid your hair until you reach the back of your neck. Repeat on the opposite side. Use transparent elastic hair ties or bobby pins to hold the ends in place.
Pro Tip: For an elegant finish, tie the back of the tendrils on the side of your braid while wearing gold hair accessories. Your face will also be perfectly sculpted by it.
Frontal Braids Without Leaves
Do you wish to activate goddess mode? With a few cute braids in the front and abundant, flowing deep waves, you'll command attention as you flaunt a look with real commanding power. While the rest of your hairstyle hangs loosely, make two tiny braids about 4 inches back in your hair and secure them with a rubber band.
Hair styling advice: Part your hair diagonally to make a detailed pattern on top of your head.
High Ponytail Scrunchie
Pay homage to the 1980s! In addition to managing your brand-new locks with the greatest sew-in hair extensions for black hair with ease and no concern for tangles, try bringing back the famed scrunchie! Spruce up your scrunchie ponytail game by taking a few sections out to frame your face.
Deep waves with a center part in hair extensions
Want to enhance your deep wave hair extensions' originality and simplicity without sacrificing style? Accessorize with jeweled headbands, bold hair ties, barrettes with vivid patterns, unique pins, and hair clips to make a statement with your look. These images of deep waves in hairstyles are sure to astound everyone! Your options are unlimited, ranging from crown braids to deep-wave hairstyles with accessories. Purchase a brand-new sewing machine in the deep wave style to quickly achieve the most stylish appearance and enjoy the day. Follow the prevailing trends as they change!
The Final Word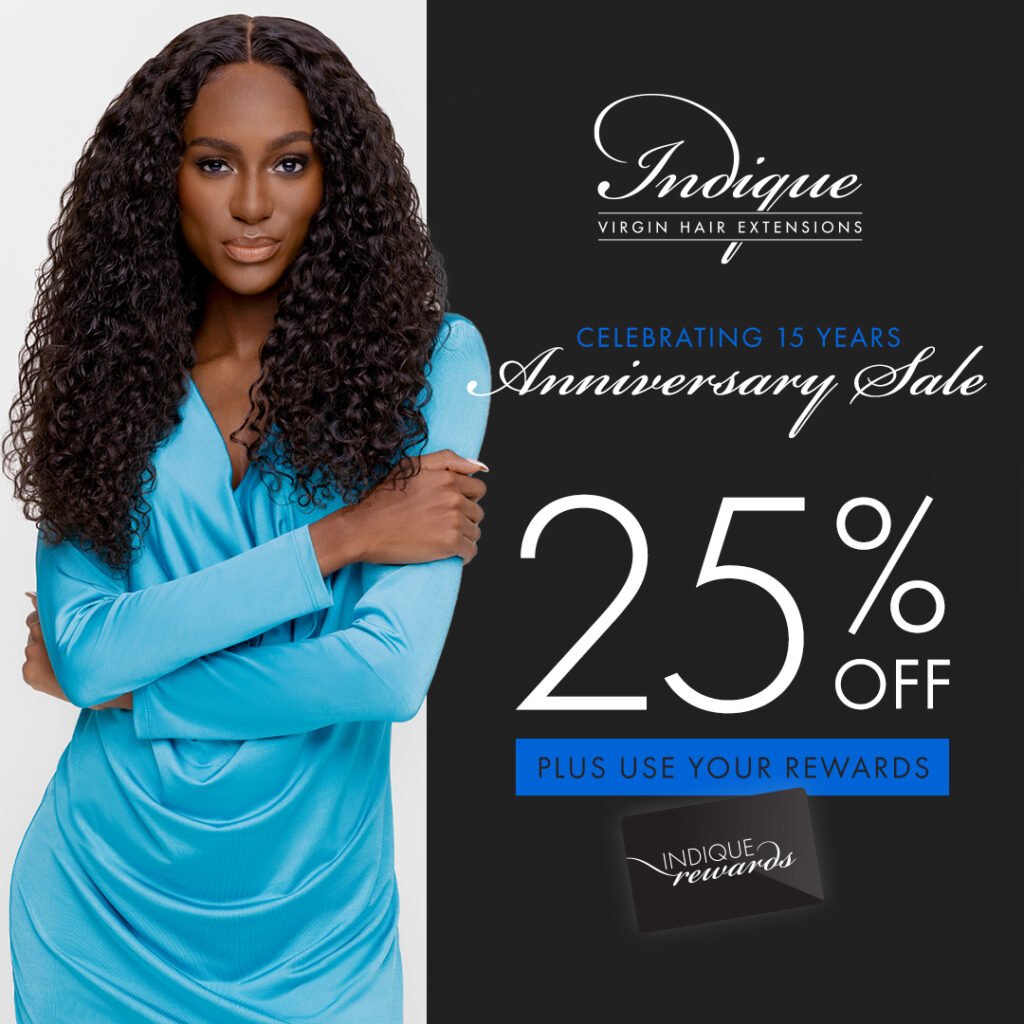 So, what are you waiting for? Save 25% on your Indique purchase through September 25th! Combine with Indique Rewards to save even more! Free shipping $200+ Shop the best now!