Hair loss is a big problem almost all women and mene are tired of counting the amount of hair they lose every day. Hairfall is often accompanied by other scalp issues such as dandruff, baldness, hair thinning, and greying. Pollution is the major culprit; we are exposed to pollution on a daily basis, no matter how hard we try to protect our hair by wrapping it around a scraf or using a heat protectant.
It is still damaged and gradually loses its natural lustre. Hard and polluted water also takes a toll on your hair, not only making the strands weak and lifeless, but also draining the natural oil from hair, making it prone to breakage.
Onion oil is a tried-and-true remedy for promoting hair growth and preventing hair loss. This is a famous Ayurvedic treatment for keeping healthy, thick hair. All you need is a consistent commitment to using this hair oil on a regular basis. Don't forget to eat a nutritious diet in addition to using this magical hair oil.
Here are 9 Benefits of Using Best Onion Oil for Hair :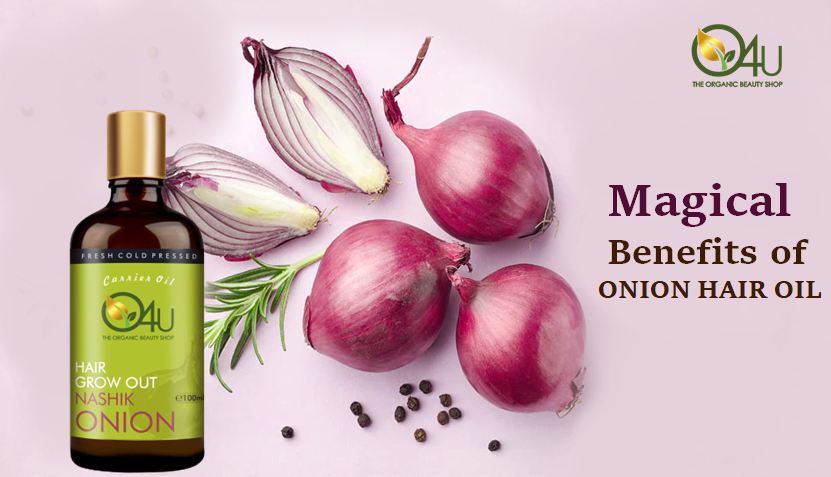 Prevent Hair Fall :
Due to the presence of numerous antioxidants, onion juice helps in effectively optimising the hair growth cycle, particularly by boosting the functioning of certain enzymes that work together to prevent hair fall.
It is a miracle oil for stimulating hair growth. Regular use of onion oil will effectively prevent and treat baldness.
Premature Greying of Hair :
Onion oil is high in sulphur, which helps to prevent hair breakage, split ends, and thinning. Other nutrients found in onions prevent hair from rusting. It also keeps the pH of the hair stable and prevents the premature appearance of gray hair.
Strengthen Hair Follicles :
Onion juice also ensures that your hair is well nourished, and the presence of sulphur improves the quality of hair follicles.
Nourishes the scalp and increases blood flow resulting in thicker, stronger hair.
Get Rid of Dandruff Naturally :
Regular usage of onion oil to your crown area will effectively promote hair regrowth while also preventing bacterial infections and dandruff.
Onion oil is also beneficial if you want to lengthen your hair; it is a low-cost solution that will make your hair stronger and healthier, as well as promote rapid onion oil for hair growth.
To support the health, onion oil can be combined with any carrier oil. For example, onion oil can be combined with olive or coconut oil. Onion oil will also keep your hair shiny and healthy.
Onion oil nourishes the scalp and can be used as a conditioner before washing your hair. It functions as a natural conditioner, preventing dryness and controlling curly hair.
How to Apply Onion Oil on Your Scalp :
To ensure that you get the direct benefit of onions without any added chemicals, it is always best to extract the juice of small sized onions at home. To treat baldness, apply a few drops of oil to your palm and massage it into your scalp for 15-20 minutes. Allow the oil to sit in your hair for a few hours before rinsing with natural shampoo. Repeat the process every two days to reap the immediate benefits.
The benefits of onion oil, combine it with your favourite carrier oil, such as raw coconut oil. Warm onion oil mixed with coconut oil and massage it into your scalp and hair. Allow it to sit overnight before rinsing thoroughly with organic shampoo. It will condition your hair, prevent hair loss, strengthen it, and promote hair growth.