Are you tired of replacing the shower curtain from the kid's bathroom every few days?
You may even don't feel like washing them to reuse them again and again. However, you desperately need a solution to keep water inside the shower area. A simple solution may be to install a shower door. The two most common choices you will come across during your search are pivot shower doors and sliding shower doors. These both works difference hence offer distinctive advantages over each other. In this article, we are going to compare the advantages of a pivot door over a sliding door. 
It will be a great idea to know the advantages of shower doors over shower curtains.
Why Prefer Pivot Shower Door over a shower curtain
Sliding and pivoting glass shower doors allow lights into your shower enclosure which is not possible with a shower curtain.  
When it comes to shower doors, you have a variety of glass options available to choose from. For example, you can get the obscure or clear glass as per your requirements. 
While shower curtains can quickly get dirty, shower doors are a lot easier to clean and maintain. For example, you can have a "Microtek" chemical coating on your glass shower door that reduces the erosion where fewer dirt traps and accumulate on it. As a result, you don't have scum buildups on the door. 
Your shower curtain may need replacement every few days or months. This is not the case with a shower door. Once installed, you can use them for many years without any problem. 
So, whether you choose a sliding shower door or a pivot one, you can enjoy all of the above benefits. But making a choice between these two options will require you to know when and where to prefer each type of door.
Advantages of Pivot Doors Over Sliding Shower Doors
A pivot shower door works on the hinges that are secured from top and bottom, allowing the door to revolve or spin while staying in the same position. Most of such doors are mounted on the hinges from the corner and can swing up to 180 degrees in either direction.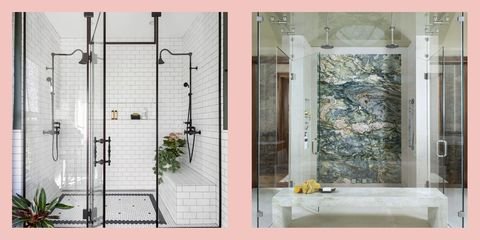 Pro 1. No Marks on The Bottom. Probably the biggest downside of the sliding doors is that they operate linking on the floor. That results in the tracks on the door as it slides in. It is especially the case if you install low-quality framed sliding doors. The metal track on which your sliding door moves forward and backward can easily accumulate the dirt and scum that you have clean often. In comparison to that, the pivot shower door opens in and outwards, having some gap from the floor, don't create any door tracks.
Pro 2. Pivot Shower Doors have a Large Opening. The pivot shower door offers a wide-open entrance into the shower area. That makes accessibility a lot easier in comparison to sliding doors that open by overlap on one another. As a result, the opening of the enclosure becomes smaller. This advantage of pivoting doors can make them a great choice if you have someone in the family with limited mobility.
Pro 3. Fit in Smaller Corner Spaces. There are situations when your shower enclosure fitting requires you to have a smaller corner entrance into the shower area. In such cases, you need a bigger entrance door to cover up the space. A pivot shower door is a perfect fit for such a smaller corner space, offering some space-saving as well.
Pro 4. Less Maintenance Required. If you have used a sliding door, then you may have noticed that a sliding door may easily get stuck on the frame due to minor misalignment in the track. That makes it incredibly harder to use. The rollers may get bend or broken over time. You would not have any such problems to deal with when using the pivot shower door. The only maintenance required is that you may lubricate the hinges sometimes if you hear the creak of the hinges.
Pro 5. Easy to Clean. The pivot shower doors have a very simple structure with a glass panel that moves back and forth wards on hinges. This makes it very easy to clean in comparison to the sliding shower door, which has a full track, rollers, and many other small parts to clean. Moreover, such doors can easily accumulate dirt and grime, which is not the case with pivot doors. You may sometime even make a lot of effort in removing the track from the sliding door.
Cons of Pivot Shower Door.
Everything in the world may have a downside, and the pivot shower door is no exception. The major problem with pivot doors is they require clearance space when opening. That sometimes be problematic for small bathroom spaces. Secondly, you may have water dripping on the outside of the shower area, which may create a lot of mess in the bathroom area.
Final Thoughts.
Pivot doors have a common design that is extensively used for various types of doors. It is simple to install and operate. The various advantage over sliding door is that they offer wide opening, are easier to clean and maintain, and have the possibility to fit into smaller corner space. While every shower door has its own advantages and disadvantages, you should prefer the one based on your shower area requirements and personal preferences.