Finding a great sofa or elegant ottomans to fit your interiors might be difficult, but a pleasant, well-designed home demands the proper upholstery furnishings.
Upholstery furniture is made up of elements that are padded with leather or cloth. Headboards, ottomans, dining chairs, armchairs, and office chairs are some additional prominent examples.
The pricing is also heavily influenced by the merchant you choose and the materials used. Leather is the most expensive material. It is also difficult to maintain.
You're in luck If you've been seeking furnishings for your home or apartment. We've compiled a list of Dubai's best upholstery shops.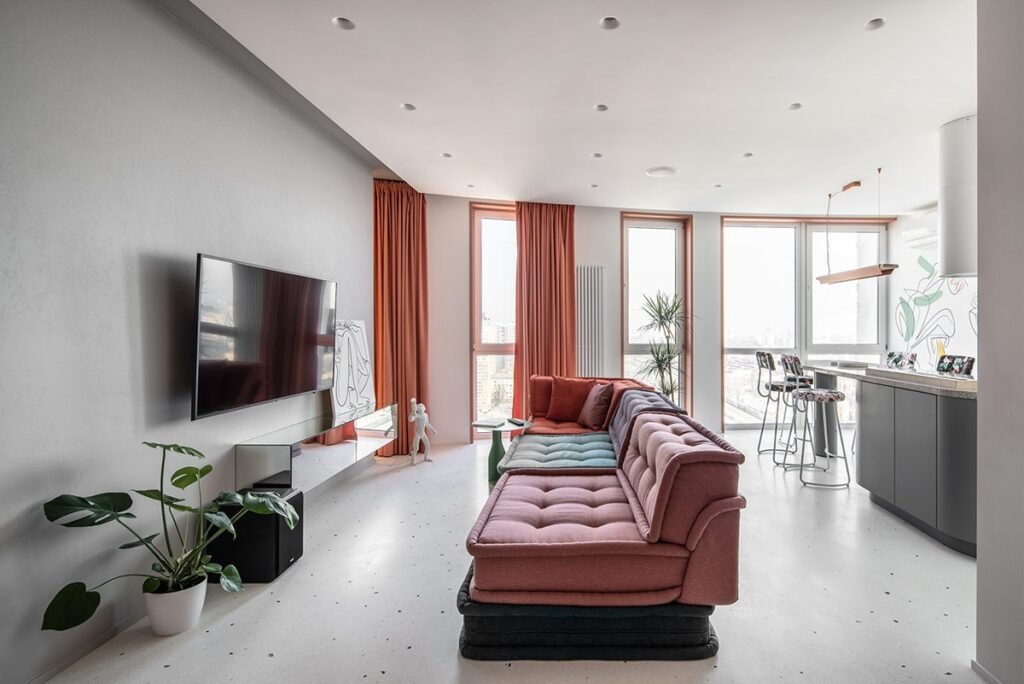 The Best Upholstery Shops in Dubai
Let's get to know and discover the 5 best upholstery shops in Dubai.
GreenGrass.ae
Greengrass.ae is one of the most well-known upholstery providers in Dubai for couches, sofas, chairs, and beds, with the goal of delivering excellent quality furniture to customers. Upholstery is also available for other items such as mattresses, headboards, and other sorts of chairs.
They also have specialists who can assist you with the interior design of your area if you haven't done so yet. You can request a custom furniture consultation, restoration work, or other upholstery services for a specific piece of furniture.
Greengrass.ae offers a diverse range of ready-made products created by its talented artisans. Their cream-colored leather 2-seater sofa and the L-shaped rattan sofa covered in tan material and elegant boho cushions, all of which can be found on their website, are two of our favorites.
Greengrass.ae serves corporate clients, particularly hotels, in addition to individuals wishing to equip their homes or offices. Many clients who purchase upholstered furniture from the business like the beauty and durability of their purchases.
Pros
Offers custom designed upholstery
Specializes in sofas
Serve corporate clients
service 24 hours a day, 7 days a week
Upholsterypro.ae
It can be tough to find a fashionable and spacious sofa bed, but upholsterypro.ae has a lot of wonderful possibilities. Their emerald green quilted daybed, which can be found on their website, is the perfect focal point for any art deco-inspired space.
The store also creates curtains and rugs in addition to sofas. If you want your sofa to match your curtains to make the overall decor more appealing, they can make that happen.
Upholsterypro.ae offers upholstery services for sofas, dining chairs, and daybeds if you don't want to buy new upholstery furniture. When we look at the work they've done for previous clients, we're amazed at how the brand has been able to transform old furniture into something new.
Pros
Discount vouchers available on the website
Sell furniture
Free quote and consultation
products and services are best
High Customer rating
Dubai Sofa Upholstery
As one of the largest furniture suppliers in the United Arab Emirates, Dubaisofaupholstery.com offers exquisite, functional upholstered furniture. Customers can choose from a variety of ready-made furniture at the store, but customized furnishings are its specialty.
The main benefit of stores that customize their products is that you're unlikely to discover anyone else doing it. You can also specify upholstery sizes, colors, textures, and other materials in detail.
The upholstery options at Dubai Sofa Upholstery include linen, chenille, polyester, velvet, and wool, to name a few. Sofas are a low-cost option, but they also have upholstered bedroom furniture. The cushioned headpiece appears to be both stylish and practical!
You can book an appointment with one of their representatives at your home if you don't always have time to swing by their store. It won't be difficult for you to check through their prototypes and choose your upholstery!
Pros
Discount vouchers available on the website
Customized furniture pieces
Free quote and consultation
Upholstery Services Dubai
Upholsteryservicesdubai.com has been one of the most reputable furnishing stores in the UAE for many years. They offer wallpapers, floor coverings, and blinds in addition to upholstery.
They have attracted clients from all around the world with the goal of transforming homes and business spaces with one-of-a-kind pieces.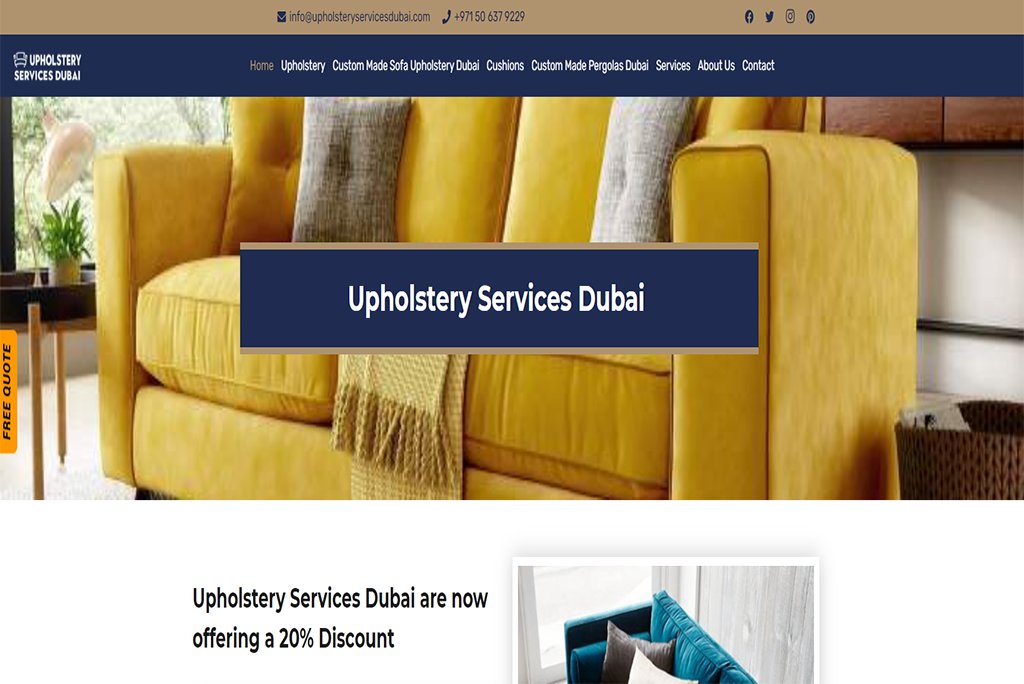 They specialize in upholstery for houses and businesses, but they also do upholstery for cars, planes, and boats. Upholsteryservicesdubai.com is one of our favorites since they provide consumers with a variety of upholstery styles to pick from.
This is one of the few upholstery stores that offer upholstery cleaning in comparison to other upholstery businesses. They can conduct a deep cleaning session if you don't need to reupholster your sofa and just need it cleaned.
Pros
Customer service 24 hours a day, 7 days a week
Online appointment available
Free measure
Samples provided online
High Customer rating
Living With White
Livingwithwhite.com, a reputable upholstery supplier in Dubai and Abu Dhabi, guarantees "excellent workmanship and the use of the finest materials." The store, unlike the others on the list, provides the most custom upholstery services.
If you have a certain sketch in mind, you may show it to them and they will assist you to alter it to fit the size and stylistic requirements of your area. We noted that many of the fabrics they use are patterned, which we think is a nice change from plain leather or textured textiles.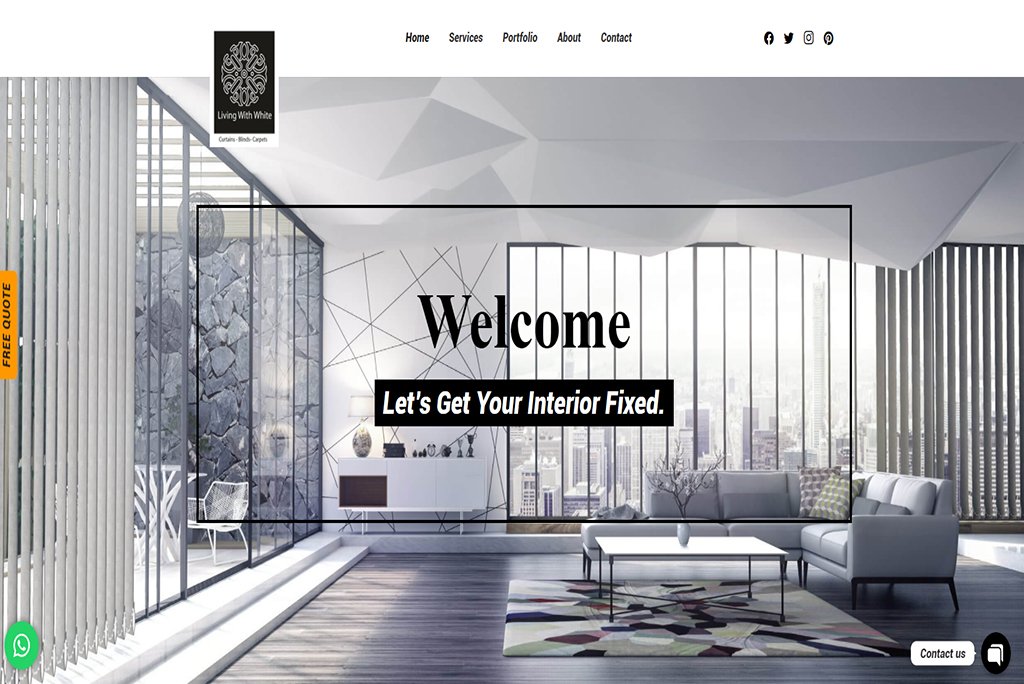 They are well-known for their sofa repair and restoration services, in addition to custom upholstery. If your sofa isn't as lovely as it once was but you can't bear to part with it, livingwithwhite.com can help you restore it to its former glory or upgrade it to a better version.
Pros
Book A Free appointment
Get A Quote
Free Samples
24/7 service
In The End!
Consider how a sofa or headboard will look in the room you're buying it for before making your purchase. Examine various possibilities to find which one best fits the environment you desire.
Always prioritize quality! Purchase parts that are built to endure a long time and can resist normal wear and tear.
If you have to buy a replacement right away, it will cost you a lot more. You'll discover that investing in well-made furniture pays off in the long run. Stick to basic, low-maintenance upholstery for a more practical purchase.
We adore eye-catching and one-of-a-kind pieces as much as the next person, but if you want a piece that can be used in multiple ways, neutral upholstery is the way to go. This makes things easy if you relocate to a new place or want to move the piece to a different spot.